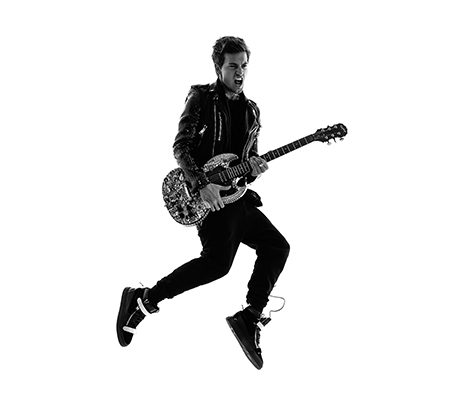 You may recognize his face and name from his days fronting Johnny Wright's boyband V Factory or from his starring role in the 2009 reboot of Fame. Asher Monroe has a long list of accomplished roles and history in music, and considering he's only 26, that is quite an achievement. On the heels of the release of his second EP, On My Way: Part 2, which came out last month, V for Vetrano sat down with the actor/ singer to talk music, working with Chris Brown and "fame."
---
Chris Vetrano: You independently released the follow up to your first EP, On My Way: Part 1 recently. Why did you decide to release the two EP projects separately rather than one full length album?
Asher Monroe: I have accumulated so much music over the past year or so. I felt that splitting it up in two EP's would be a great way to release some of these songs, and also a good setup for a full length album later this year. The feedback so far has been very positive, and my fans have enjoyed getting a few songs at a time. There is no exact formula to releasing music these days, so it's cool to experiment and base it off of the fans' feedback.
CV: Do you have a favorite track from the new EP? Which one and why?
AM: It's hard to say which one is my favorite since they all mean so much to me. If I could choose top three, it would be would be "Memory featuring Chris Brown," "Sign Your Love," and "Fucked Up featuring Sean Kingston."
CV: In addition to music, you've spent a lot of your career honing your acting chops. What was the best role/ character you've played and why?
AM: I had the best time playing Marco in "Fame." Crazy enough, the orginal movie was based on the professional performing arts school in New York City that I actually attended when I lived in the city!
CV: A natural fit then! You also appeared on the NBC series Parenthood, which ended last week. Do you have a fun memory from the set of the series?
AM: My character was not necessarily the "nice guy." Dax Shepard must be a method actor because he was the only one in the cast who, I think, believed that I was the same person off-screen. I did 8 episodes and we never really spoke, but I could tell by his looks. LOL! Maybe he was just being over-protective of the girls that I played opposite.
CV: In addition to working with actors, you've worked with some of the biggest names in music, most recently Ryan Tedder and Chris Brown. How did they influence your sound and the overall feel of the EP's?
AM: Chris Brown was at the top of his R&B game, and I think it did influence the sound a little. But since I wrote on every song and contributed a lot to the creative process, I was able to bring my sound, as well. That's the beauty of co-writing – you are bringing the best of two worlds together. I am very happy with the end product, but I'm still working on my sound, which is always evolving.
CV: As you mentioned, people may remember you as the male lead in the 2009 rebooted Fame motion picture or from Broadway's Beauty and the Beast. Do you have plans to return to the big screen and/or Broadway in the future?
AM: Of course I think about all of those things. I think when it's the right time to return, I'll know. Until then, I am enjoying putting 100% of my focus into music.
CV: What music are you currently listening to? For fun and/or inspiration?
AM: I'm [currently] playing the new Lenny Kravitz album Strut. I listen to a wide range of artists. I enjoy 70's groove from Bee Gees and Stevie Wonder to Queen; Journey in the 80's, and Ace of Base, 2Pac and Macy Gray in the 90s'. Today, I'm loving Bruno Mars, Adele, and OneRepublic.
CV: Sean Kingston appears on the new EP on the track "Fucked Up". Did you get to work directly with him in the studio? How did he get involved with the project/ song?
AM: Yes! We worked a few nights together in the studio. I think Chris Brown felt like his energy and age fit perfectly with my project and that song in particular. We all had a blast working late nights in the studio together.
CV: So what's next for you? Any plans to tour with the new project?
AM: I'm finishing up a few more songs for my full length album – just some vocals to record! As soon as that's complete, I plan to release it, and hopefully go out on tour later this year!
---
You can find more information about Asher Monroe on his website, Facebook or on Twitter and check back soon for a special installment of Take 5 with the singer. Get his EP Part One and Part Two on iTunes now.